Today,Laptop is very important for everyone.Everyone want it for it's work & anyone for its studies.But the main problem is Price.
so,Today I am going to tell you the best Laptops in different Price Ranges.
Today we will talk about:-
7 Tips to Choose a Good Laptop
Everywhere,Laptop is very easily Available in the market for Different Price Range with Different Specs.
Many People Keep it's Price Also In mind.So,we will Also Talk about it Later & Give you Recommendation for Different Laptops in Different Price.
We will also Talk About best laptops for college students Later On.
But,Many people doesn't Choose a Good Laptop just because they Don't Know what we have to see before Buying a it..
So,Here is 7 Step Quick Guide for Choosing a Better Laptop.Let's start with the First Step-
Step 1:- Pick a Platform(e.g.-Windows,Mac)
First,You have to Decide the Platform.According to that you can Go further & Now,you can move to the next Step.
Step 2:-Choose specs You want
Decide the Specs That you really want or looking in your Laptop.It totally Depend on your Current Work or the Purpose for which you want to purchase a it.
Step 3:-Choose a Strong Battery Life!
If the Laptop Battery gets Down Fast then,It's really Frustrating.So,If you are Purchasing a good Laptop for any Kind Of Work.
Then,My first Recommendation to Choose a Strong Battery Life.
Step 4:-Choose the Best Performance
Performance is as important As battery Life! Becuase if you chose a Better Battery Life & choose a worst performance Laptop
then,Your Battery Life is Totally Waste.You Doesn't want to work without a god & Fast Performance.
Step 5:-Go Ahead with a good Brand
Choosing a Best Laptop Brand is also one of the Major Factor for the Performance of the Laptop.
You will Also Get fast Technical Support,If you face any Problem in Future if you go ahead with the top-Trusted Brands.
Step 6:-Storage
Choose a Better Storage for your Laptop Because if you will choose a Low storage Laptop then
it will show "Storage Full" just by Downloading Such Light File As well.
It will also Slow-Down your System if your Storage Become Full.+
Step 7:-RAM
Also Its Plays a very Important Role To make your Laptop Faster.So,Choose it which have a Better RAM(Atleast 4 GB)
Best Laptop under 100k
Today I'll give you my recommendation for a gaming laptop under 1 lakh rupees or you can say 1000 dollars.
Let me kick things off by talking but you are looking in a gaming laptop under one lakh rupees.
So we want a good gaminglaptop with optimum performance and also provide the best bang for our buck.
Which means it can play modern titles without hiccups.
And also provide best value for our money.
So before we get into it I want to put a quick disclaimer.
Technology is getting older and older everyday.It's getting older than you think.
So this video might not be relevant after six months or a year.
It depends on when you are watching this video.
But anyways this is my recommendation for under 1 lakh rupees or 1000 dollars.So the best gaming laptop what I found was and also end up buying is
The Asus ROG Strix GL503GE
Specs:-
It's packing an Intel i7 8th generation 8750H 6 core CPU, NVIDIA GTX 1050TI with 4gb GDDR5 GPU,
8 gb of DD R4 RAM. But you can easily upgrade this to 32 gb of ram from the back panel.We also get 128 gb SSD which is again upgradable.
And along with that we also get 1TB of 7400 RPM hard drive.
There is also an i-5 model available with very similar specs which you can also check out.Also links to both of these laptops are down below.
Other than specs the laptop is covered with brushed metal finish on the top with an Asus logo which lights up red.
And all the rest of the it kept black.
Some other Specs
There is not much of RGB thing going on on this laptop except for the keyboard which is pretty standard among all gaming laptops.
The laptop is also very standard in size.similar to any 15. 6 inch with a weight of 2.6kgs and I do feel it's a bit bulky.Now there are also lot of inputs and outputs
On this laptop,which includes one USB 3.1 type C gen 2 port,three USB 3.1 gen 2 ports,One USB 2.0 port, one mini Display Port 1.2,one HDMI 1.4, one rj 45 jack, one SD card slot,a 3.5 mm headphone
and microphone combo jack and Kensington lock.
Moving on to the display on this laptop is 15.6 inch 120 Hertz TN display. I would rather love to see and IPS panel butwhen it comes to gaming this doesn't disappoint with the response time of three milliseconds.And the 120 Hertz make it look buttery smooth.
Now as far as the performance goes, this laptop performs as you would expect from the specs.This can easily handle demanding titles
as I have tested far cry 5 at normal settings.And it gives an average framerate of 66 fps.Now if you bump this up to ultra setting the laptop takes a hit and you could get an average FPS of 44.
Overall Design & Specs:-
So the build quality of this laptop is excellent.The metal top gives it a solid build and this is something I can look up to for years to come. I did find some flex in the bottom panel but that was not much you should worry about.
Also talking about the flex you will find a bit of flex in the keyboard.But this won't be as bad as you get on other gaming laptops. And as far as the keyboard goes the keyboard is pretty fantastic to use.
The keystroke is good and travel distance is pretty normal so you will enjoy playing games on this laptop.
So the last thing I want to talk about in this video is the pricing of this laptop. So the GL503GE comes at a price of 95,000 Rs. on Amazon.in and also 1099 dollars on amazon.com for the i7 version.
And if you want to save some money you can also check out the i5 version which is priced at 80,000 rupees or $1,000.
Also Read:–Huawei Freebies 3 Review & Price.
Best Laptop under 50k
Acer aspire 5s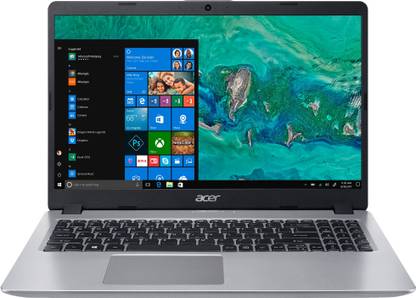 Priced twenty nine thousand nine ninety the vive book 15 comes with a 15.6 inch full HD display which is great
And it's powered by the seventh gen core i3 processor and I know that's an older processor but it won't make that bigger difference for the things you'll be doing on laptop in this price range.
Anyway the vive book 15 also comes with4gb RAM and a 1tb hard disk along with Intel u HD graphics 620 the Acer Aspire5 S on the other hand has a 15.6 inchfull HD display as well but it comeswith a better 8 gen core i3 processor paired with 4 GB RAM and 1 TB hard disk.
It also has quite a lot of ports which is nice to have however the vive book 15 comes with a fingerprint scanner which is pretty cool at this price and it's also the best-looking laptop in this price while the Acer Aspire 5s doesn't have that so here's what it comes down to if you want a fingerprint scanner and amazing looks.
Best Laptop under 25k
Asus

VIVO book X
Now, this laptop offers a variety of CPU options starting from Intel Celeron 216 I processor er the model.
we have for review is the x5 0 7u which comes with 6th gen itay processor coupled with 4 gigs of RAM so the x5 7u comes in this sort of box packing
let's check out the specs of this laptop .
The Asus viva book x5 0 7 u comes in two colors grey and gold I've got the grey color model has a 15.6 inch 1080p full HD LED backlit display
It comes with Intel i3 6 double 0 6u processor it's a 2 core 4 thread CPU clocked at 2 gigahertz has 4gb ddr4 ram 1tb 5400 rpm hard disk and a 33 water battery with fast charging support this laptop has impressive specs for the price.
Watch This Video Till the End to Find Out More Clearly.
Video Source:- Technology Gyan
Conclusion
In this blog,We have discussed all the important thing that we should know before buying a laptop.Also I will give you Best Laptop Suggestion.
All Specs of the Recommended Laptop is above.You can checkout.
Now,Let's Your turn to comment that "Which laptop you like the Most"?
FAQ's
Which laptop should I buy in 2020?
There's are tons of Good Laptop You can Choose One But you have to see some major Specs to Before Buying it.You can read it in(7 Tips to Choose a Good Laptop)
Which brand of laptop is best?
There are Lots of Best Brand.Some of are:-
*Apple
*Dell
*Lenovo
*Asus
*HP
*Acer
& So on……
Is Dell or HP better?
It's Really a very Complicated Question on the Internet.But If i will tell you a little Bit then Both of are Good Brands & Provide Excellent Services.So,You can Choose Any of them Also.
Which is the No 1 laptop brand in India?
I think its Apple,Because they sell Almost 1000+ Mac Book Everyday.And also they have a Vast Market in India as well.